Potato/ chocolate mix
1 large cooked sweet potato – skin removed – still warm and mashed

1 bar of 85% dark chocolate ( I use Green and blacks)

60g of melted coconut oil - ( I use Biona odourless)

Dry ingredients
2 heaped tbsp cinnamon
50g ground almonds
25g coconut flour
2 tbps pure cocoa powder
1 ½ tsp baking powder
½ tsp salt
Egg mix
2 tbsp maple syrup (equals roughly 30g)
1 tsp quality vanilla extract ( ideally those brands in a dark glass bottle)
4 medium organic free range eggs
2 tsp honey (equals roughly 10g)



Resevre
2 -4 tbsp milk/ coconut milk to loosen if needed
Method:
1. Preheat a conventional oven on 160oC. Grease tin lightly with vegetable oil and a brush.
2. Potato/ chocolate mix - Quarter and cook sweet potato (microwave or oven) – remove skin and mash. Bash up the chocolate inside its packet so that it is left in biggish chunks. Add smashed choclate to melted coconut oil and warm potato. Allow cocolate to melt and mix.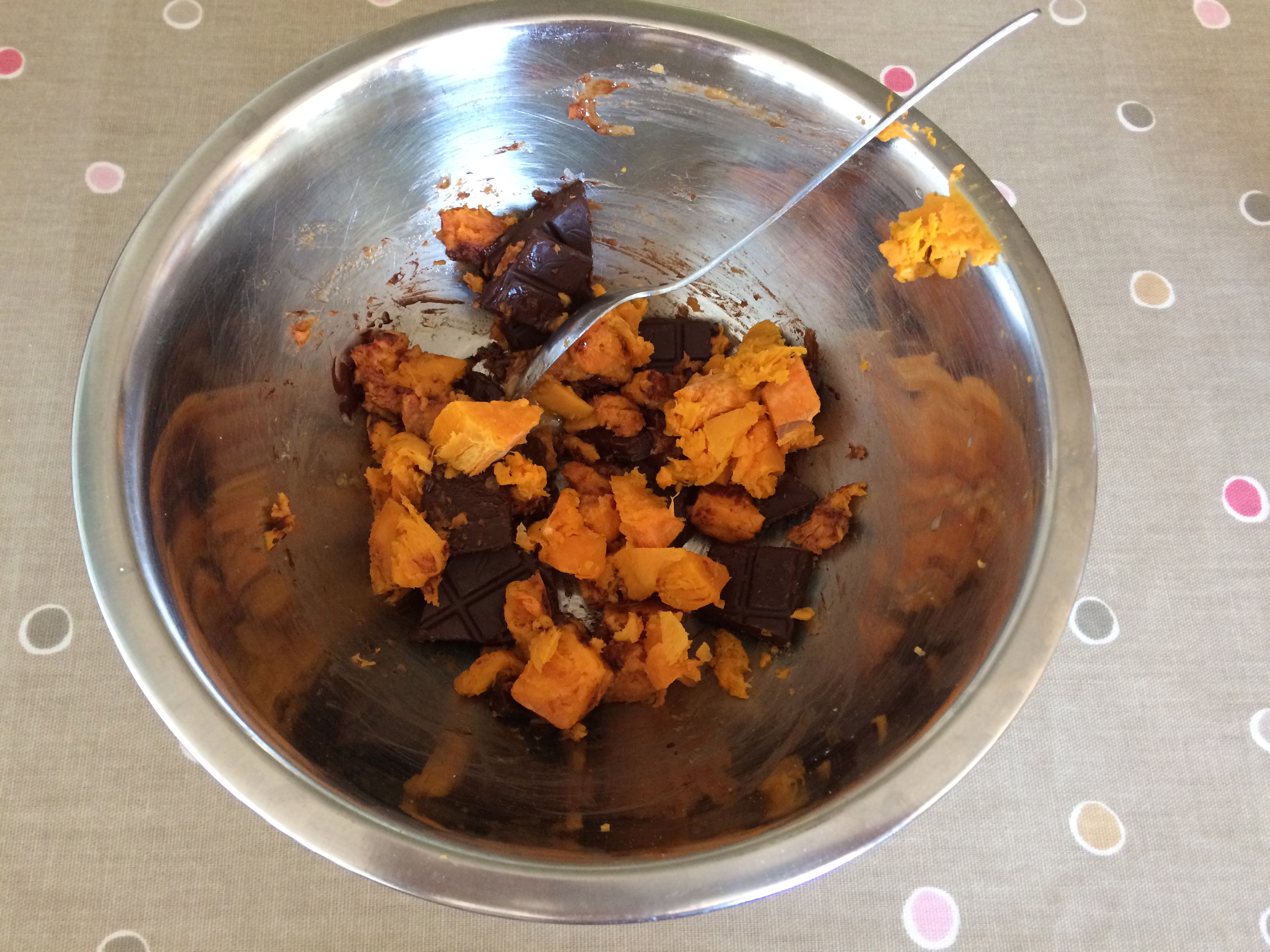 3. Dry mix - Meanwhile, weigh out your cinnamon, ground almonds, coconut flour, cocoa powder, baking powder and salt.
4. Egg mix - In another bowl, whisk up the eggs, honey, maple syrup and vanilla extract until pale and full of surface bubbles.
5. Once chocolate fully melted, add in the egg mix and dry mix. Stir thoroughly ( I use a hand blender) . If the mixture is stiff then add reserve 2-4 tbsp milk to loosen. You want a batter you can just pour not be a solid lump
6. Pour into the prepared tin and place in the middle of the oven for 35 mins exactly. Allow to cool in the tin before serving. Don't expect much of a rise , these will be dense and gooey.